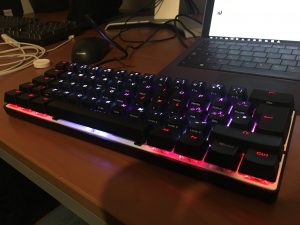 Recently, found a subreddit /r/mechanicalkeyboards /r/mk for short.
I've been seeing these beautiful images of keyboards of every kind! Many iKBC, wasd, poker, etc
I've been in the meanwhile googling an redditing about them! Their characteristics, the switches, the keycaps type of plastic and their print method, the programmability, iso vs ansi layout, so on and so forth.
Finally I decided to lose my mind and throw 110€ for a vortex pok3r rgb from amazon.
I decided for a nordic iso layout as there was no PT layout available, and although the british layout is nice to work with, one is used (in my case) to PT, and the nordic looks alike more.
So I've read around that it takes about 3 weeks to get fully used to it.
— To be updated later, with handy programmability modes, and more